Kits Available from WiBotic and Our Partners
WiBotic works with robot and Underwater Autonomous Vehicle (UAV) Original Equipment Manufacturers (OEMs) to create customized, and sometimes private-labelled, versions of our autonomous wireless charging systems. Check out the solutions below for examples of how our technology enables true autonomy for these popular robots and UAVs. These solutions are typically purchased through our partners, but in some cases are available directly from WiBotic. We also offer a new UAV Landing Pad design guide to help UAV OEMs and integrators build complete solutions for end users. Read on for more details!
Clearpath Robotics
Clearpath offers ready-made WiBotic wireless charging solutions for the Jackal and Husky Unmanned Ground Vehicles (UGVs). These kits can be ordered separately and retrofitted to existing robots or ordered with new robots as a fully integrated package. Explore the Clearpath website to learn more about their products and how WiBotic is setting the standard for autonomous charging in UGVs.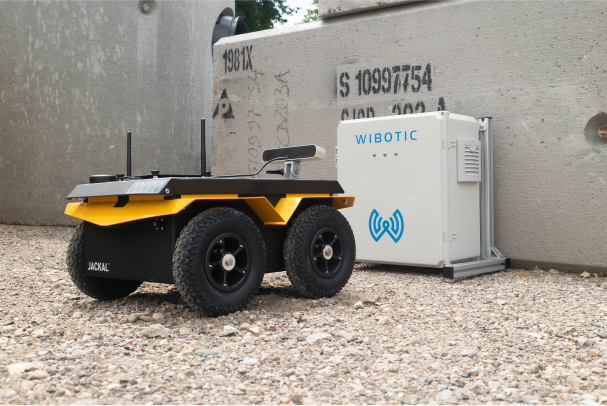 Ubiquity Magni
WiBotic has developed a mounting kit and transmitter station that easily adds fully autonomous charging to the Magni robot. Both low and high power versions of the kits are available directly from WiBotic. Explore Ubiquity Robotics to learn more about how WiBotic collaborates with other robotics companies to raise efficiency and offer the greatest personalization and kit options available.
BlueHalo IntenseEye UAV
WiBotic has partnered with Blue Halo to provide a fully integrated wireless charging system for the IntenseEye Version 2 quadcopter. This is a 750mm quadcopter designed for commercial and defense applications, the IEV2 supports multiple payload options for a wide range of applications. WiBotic's Onboard Charger is built into the body of the UAV and a custom-designed mounting bracket allows for click-on installation of the receiver antenna. Contact us for more information!