"We delivered a robot and wireless charger to a customer that's working with a nuclear waste facility. Having a no touch, reliable wireless charging system in those conditions have weird and wonderful benefits that people wouldn't otherwise think of."

– Jason Walker, CEO and Co-Founder of Waypoint Robotics
Although WiBotic focuses on solutions for the commercial and industrial robotics market, some of our most exciting projects have involved devices that wouldn't normally be considered "robots". Essentially any device that needs autonomous power delivery, either for battery charging or for direct power to a load, will benefit from our technology.
Carts and Bins
One WiBotic application involves a cart at a steel foundry with battery powered sensors. The cart moves along a track and therefore can't be plugged in. Swapping batteries during operation is also impossible.
One version of a WiBotic system was implemented to solve this challenge. While the cart is being unloaded at the end of its track, a strategically placed transmitter automatically turns on and begins charging the battery. This happens several times during the day, providing enough energy to keep the battery perpetually charged and the sensors communicating around the clock.
Marine / Underwater
Wireless antennas can be fully sealed or potted for use in underwater environments, making WiBotic systems an excellent alternative to expensive wet-mate power connectors. We've worked collaboratively with several customers to charge different types of devices, from AUVs to permanently positioned nodes on the seafloor. Our systems have even operated reliably at depths of 3000 feet! We continue to work with partners to provide needed solutions for the commercial and research markets as well for our defense industry customers.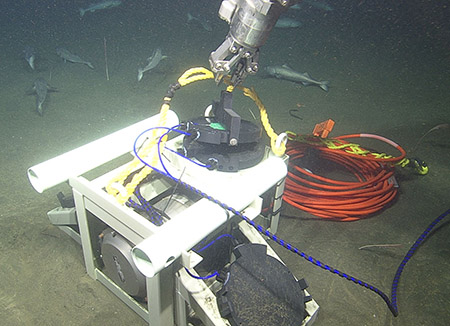 Learn how your robots can charge ahead
We're always looking for our next adventure, contact us and let us know if you have a challenge or unique application that could benefit from wireless power!
Case Studies
We champion customers of all backgrounds, challenges, and environments. They are the heroes, we keep them charging ahead.