Software
WiBotic offers two different software products to help customers optimize power and maximize robot uptime.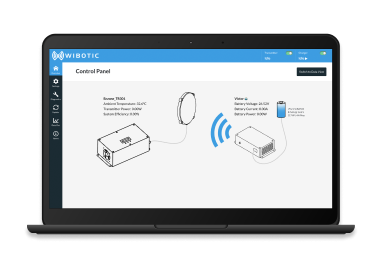 Control Panel
(included with hardware)
The WiBotic Control Panel is a browser-based user interface that is provided at no additional charge with all WiBotic hardware. It allows users to configure charging parameters such as float voltage and charge current, provides live monitoring of the charging process, enables firmware updates, and logs the most recent charge cycle data for system troubleshooting. Two different Application Programming Interfaces (APIs) offering the same functionality through other software systems are also available.
WiBotic Commander is designed to provide a fleet-wide overview and historical record of the battery charging across entire fleets of robots. It provides a floor plan or map view of transmitter locations and a color coded indication of each transmitter's status. Every log file for every charge cycle is also retrieved and stored in a database to help improve the overall charging process and battery performance over time.   Commander also allows for staged fleet-wide firmware updates with a few simple clicks.  Offered as a Software as a Service (SaaS) solution that can be installed locally or in the cloud, Commander provides the visibility and control you need to maximize fleet productivity.