Programmable Wireless Charging to Extend the Value of Industrial Automation
Industrial equipment and automation systems can often operate in sub-optimal environmental conditions. Exposure to heat, cold, dust, other debris or moisture could affect the performance of contact-based charging or wired power equipment. WiBotic wireless power solutions circumvent these issues by providing high-power levels and high-degrees of positional flexibility, allowing continuous or opportunity charging for industrial applications, including those where rotating elements exclude the use of power cords.
Autonomous Power Optimization
Maximize Equipment Uptime
Charging stations can be placed throughout the facility or in the field to provide power to instruments and equipment in places never before possible.
Enhance Durability
Wireless charging systems can be sealed against dirty and corrosive environments, delivering reliable power to in-situ systems or those where power cords aren't an option.
Monitor and Control Remotely
With WiBotic technology, maintain constant visibility of instrument/equipment power status and implement charging routines that maximize battery life and system uptime.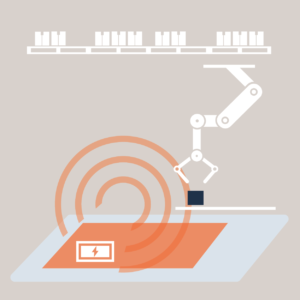 ---
Learn More
Our industrial solutions serve a variety of industries including: Energy/Utility, Oil & Gas, Security, Mining, Construction, Defense and more. Contact us for details.